<< Previous
Next >>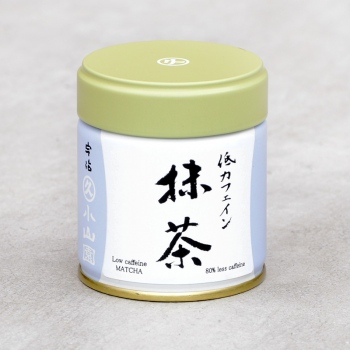 Low caffeine MATCHA
80% less caffeine, easy to prepare with hot or cold water
Origin: Uji tea fields, Japan
Ingredients: green tea powder
Shelf life: 6-8 months
Description
Matcha, powdered green tea used in the traditional "Way of Tea", was originally brought from China as medicine. Calming and invigorating, it has been acknowledged as a healthy beverage for centuries.
Low caffeine Matcha contains 80% less caffeine than regular Matcha. Caffeine is naturally extracted using fresh ewater, through safe, innovative techniques (patent applied for). This premium Matcha is then freeze-dried and ground in high-grade stone mills.
The amino acids present in Matcha green tea are not affected by the extraction process, preserving up to 90% of the beneficial constituents, including L-theanine and cathechins (such as EGCG) which may help regulate high-blood pressure and works as strong antioxidants.
Low caffeine Matcha is easy to prepare. Simply dissolve the mix with hot or cold water and shake. This tea does not need to be sifted or whisked with a traditional bamboo whisk.
Ship to:

worldwide (See exclusions)

Courier service:

DHL, EMS, SAL, Yamato Transport, Yu-Pack (See rates)

Delivery:

within 2 weeks**

Payments:

PayPal, credit card processed by PayPal (VISA, MasterCard, JCB, AMERICAN EXPRESS, Discover Card)
Credit Card, online payment through Paygent's secure site with VISA, MasterCard, JCB, AMERICAN EXPRESS or Diners credit cards

Returns:

14 days money back (See conditions)
Should you have any questions, please do not hesitate to contact us.
** While stock lasts.
It may occur the item has already been reserved and not available at the time of your online order. In this case, it may take some more time to produce and ship the product.
Latest Product Reviews
Ps******, 2018-03-06 00:17
I bought this to see if it could be good. It is very mild and almost flavorless. I will not buy again. I bought it to see if it is as good as regular matcha. Stay away unless you can't have the regular matcha.