<< Previous
Next >>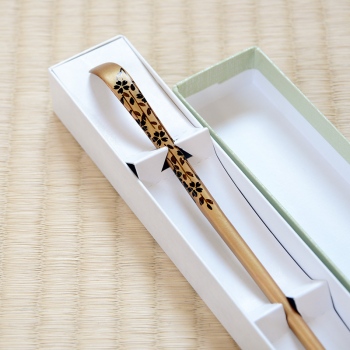 Nuri Chashaku Kinji Yozakura Makie
Matcha tea scoop decorated with cherry blossoms at night
Origin: Kyoto, Japan
Material: bamboo
Dimensions: 18 cm
Reviews:
To write a review, please log in.
(Only purchasers can write a review.)
Description
This teascoop is made of bamboo. The inside of the teascoop, which is the side of spooning up powdered tea, has been finished with unpainted bamboo grain and the outside is covered with lacquar. The picture of cherry blossoms is painted by hand.

A gifted-box is prepared.

HANDLING INSTRUCTION:
・Be sure to wipe it with a soft cloth when you get it dirty with powedered tea
・Don't wipe it with a wet cloth.
・Don't expose it directly to the sun light and avoid high temperature.
・They can be preserved in appropriate moisture.
Ship to:

worldwide (See exclusions)

Courier service:

DHL, EMS, ePacket, SAL, Yamato Transport, Yu-Pack (See conditions)

Payments:

PayPal, credit card processed by PayPal (VISA, MasterCard, JCB, AMERICAN EXPRESS, Discover Card)
Credit Card, online payment through Paygent's secure site with VISA, MasterCard, JCB, AMERICAN EXPRESS or Diners credit cards

Returns:

14 days money back (See conditions)
The customs duties do not belong to our competence. It may occur that duties have to be paid on receipt of the parcel. About the current rates of customs duties in your country please contact local authority.
Goods will be dispatched within 10 business days after confirming the inventory of the product quantity you have ordered.
Should you have any questions, please do not hesitate to contact us.