<< Previous
Next >>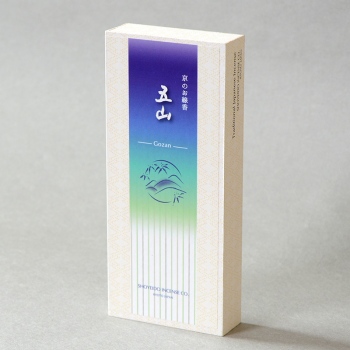 Gozan - Five Hills
150-piece incense sticks for daily use
Origin: Kyoto, Japan
Dimensions: stick length: 13.5 cm
Reviews:
To write a review, please log in.
(Only purchasers can write a review.)
Description
Daily Incense Series from Shoyeido.
A mellow and deep fragrance, based on the best sandalwood available from Mysore, India.
Hand made incense from Kyoto by master blenders using authentic pure and natural finest ingredients.
Approx. burning time: 40 min. per stick
Ship to:

worldwide (See exclusions)

Courier service:

DHL, EMS, SAL, Yamato Transport, Yu-Pack (See rates)

Delivery:

within 2 weeks**

Payments:

PayPal, credit card processed by PayPal (VISA, MasterCard, JCB, AMERICAN EXPRESS, Discover Card)
Credit Card, online payment through Paygent's secure site with VISA, MasterCard, JCB, AMERICAN EXPRESS or Diners credit cards

Returns:

14 days money back (See conditions)
Should you have any questions, please do not hesitate to contact us.
** While stock lasts.
It may occur the item has already been reserved and not available at the time of your online order. In this case, it may take some more time to produce and ship the product.